In the occasion that you miss your delivery after accepting and confirming your delivery date and time slot, you will be liable to pay £100 for the re-delivery of your items, the cost can vary up and down depending the size and quantity.
We deliver the majority of our small items, rugs and dining items, by a professional courier who will deliver to your door, we will provide a tracking link after your order has been processed, this will provide an estimated time slot. ( please allow time for the tracking to be updated )
We deliver our larger items like sofas by using a courier service who specialises in furniture delivery.
We deliver to England, Wales free of charge, this takes approx. 7-10 working days but may take longer for more remote areas such as Penzance. We can also deliver to Scotland but this may take longer and has a surcharge as mentioned above. ( please see map below )
Isle of Man, Isle of Wight, Channel Islands or Northern Ireland are excluded.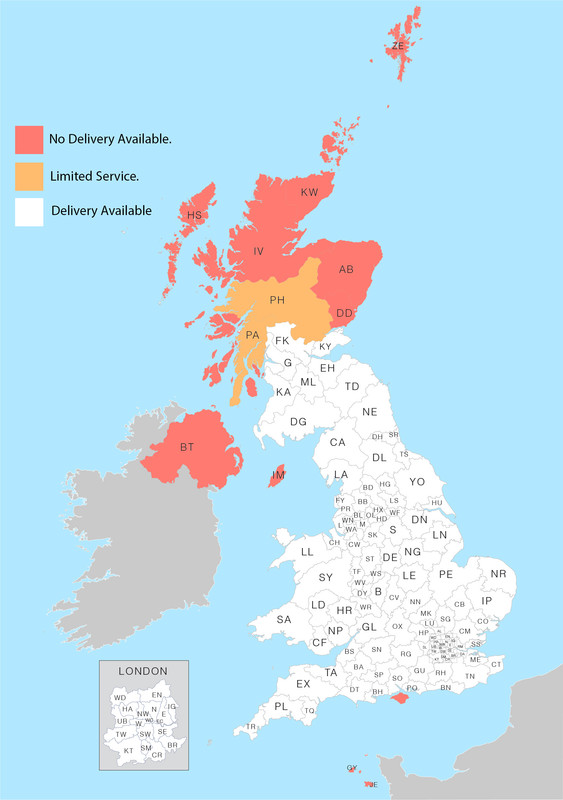 We reserve the right to cancel orders.
Please remember the more remote location may lead to early morning deliveries ( approx. 5 am) or longer lead times.
The following postcodes will we not deliver to - AB1,AB2,AB23,AB3,AB30,AB31,AB32,AB33,AB34,AB35,AB36,AB41,AB42,AB43,AB44,AB45,AB51,AB52,AB53,AB54,AB55,
DD10,DD9,DD10,DD11,DD2,DD3,DD4,DD5,DD7,DD8,DD9,PH11,PH12DD1,DD2,DD3,DD5,DD6,AB37,IV1,IV10,IV11,IV12,
IV13,IV14,IV15,IV16,IV17,IV18,IV19,IV2,IV20,IV21,IV22,IV23,IV24,IV25,IV26,IV27,IV28,IV3,IV4,IV40,IV41,IV42,IV43,
IV44,IV45,IV46,IV47,IV48,IV49,IV5,IV51,IV52,IV53,IV54,IV55,IV56,IV6,IV7,IV8,IV9,KW1,KW10,KW11,KW12,KW13,KW14,
KW2,KW3,KW5,KW6,KW7,KW8,KW9,PA34,PA38,PA39,PA40,PH19,PH20,PH21,PH22,PH23,PH24,PH25,PH26,PH30,PH31,
PH32,PH33,PH34,PH35,PH36,PH37,PH38,PH39,PH40,PH41,PH42,PH43,PH44,ZE1,ZE2,ZE3,HS1,HS2,HS3,HS4,HS5,
HS6,HS7,HS8,HS9